It is about 6.30 am Seattle time, and just about the perfect time of the day to write a little post of day 4 - because yes, really, who needs a bed at this point of the workshop? Yaaaaaay for Seattle coffee. By now I know that Victoria and a few of the guys from the CreatiLiveFive Gang have an IV of Redbull directly going to their blood. Brilliant. But 6.30 am it is, with all the excitement from the past few days I can't sleep anyway, and since I'd promised to post a little something something on the bloggidy, I have to stick to my words. Last thing I need is the internet calling me a big fat liar ;)
To say that yesterday's wedding was amazing was an understatement.
It was stellar. It was unbelievable. It was beyond my wildest dreams. It rocked every little bit of my little world and then back. I still can't believe I got the opportunity to be part of Laura & Billy's day, and had the privilege to shoot for Jasmine* & Jd. Now that I think about it I was probably dreaming all that. Yes. Dreaming. That wild wild imagination I have I tell ya' :)
I felt so blessed Laura and Billy's moments as they were getting ready for the day when they would say forever. I joined Laura as she was hanging out with her girls friends, just getting ready, chill and relaxed as Laura knows to do so well even with 3 cameras going about around her. I don't really think that CreativeLive could have done a better job at picking the perfect couple for this incredible experience.
And the wedding itself? The other guys and I were rotating as 3rd shooters, so whenever we were not shooting we would hang out at this bar next to
Theo Chocolate
called the Red Door - rock on professionals hanging out at the bar while working :) And so from there, we watched online as Laura and Billy said I do. Bunch of photo nerds we were with our laptops in the bar, and we loved it.
Theo
looked like a million bucks on Laura and Billy's day, thanks to the genius of Daniela of
Bella Designe
in Seattle. I just could not believe my eyes when I walked in the room. Did it really only take them 4 weeks to plan it all?! I wished I had more behind the scenes pictures to share with you all from the wedding day, but I only had just one. I guess I was so focused on my role as a 3rd shooter that took over completely. So forgive me, and I promise within the next few weeks -once Jasmine has blogged-, I'll be able to share a lot more pictures from the first look and the day with you.
And reading over my post so far, I am probably giving you the impression that everything was so perfect and went smoothly....hey, the light in Theo was a hot mess for any photographer, Theo was really a very very tight place, I almost tripped down the steps a billion times because I am so A.D.D when I am focused and taking pictures. But I don't really want to focus on all that because, as Jasmine put it yesterday,
"It is was it is"
, you can't always control it all and you just have got to learn to work around all that. And at the end of the day everything will be just fine.
Winding down with the entire team and crew yesterday was needed after such an event. Thank you thank you thank you to anybody who asked questions yesterday, especially the ones directed to the students. This is the reason why we are here in Seattle, to hopefully give you the perspective that you would have if you were in the room with us. So keep asking questions and telling us your experience of the workshop, because it's just the best thing to hear from you guys and there is nothing we want to do more than to help you get some questions of the air.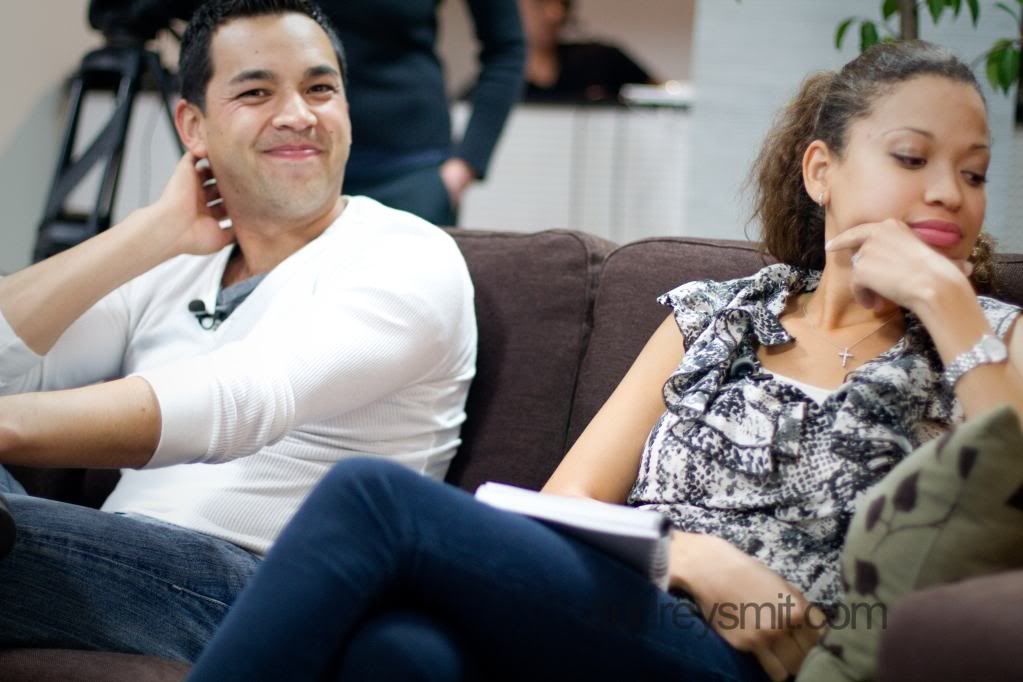 And thankfully I was still able to catch this last night after all was said and done at the workshop on my way home with Sachin and Victoria. Let me tell you, they know how to throw a sunset in Seattle :)
PS: If you can, please please oh pretty please help support what CreativeLive is doing by using this
B&H affiliate link
if you need to buy any photo gear - they have great prices too on photo gear and a huge selection, so it's in your interest anyway :)