She's been growing up. Like crazy. We left for Bali, leaving a baby girl to my parents for two weeks. And we came back to a not-so-baby-girl anymore. It's like we blinked, and here we have a little girl now.
A little girl who's taking her first steps.
And playing games on us (hiding away from us is by far her favorite).
And brushing her baby doll's hair - yes, Troels freaked out a little bit at that one ("Oh no!!!! A girl!!!! What am I going to do with a girl?! Mmmmm can we get her cars and trucs instead???").....what do you want, the little girl loves her baby :)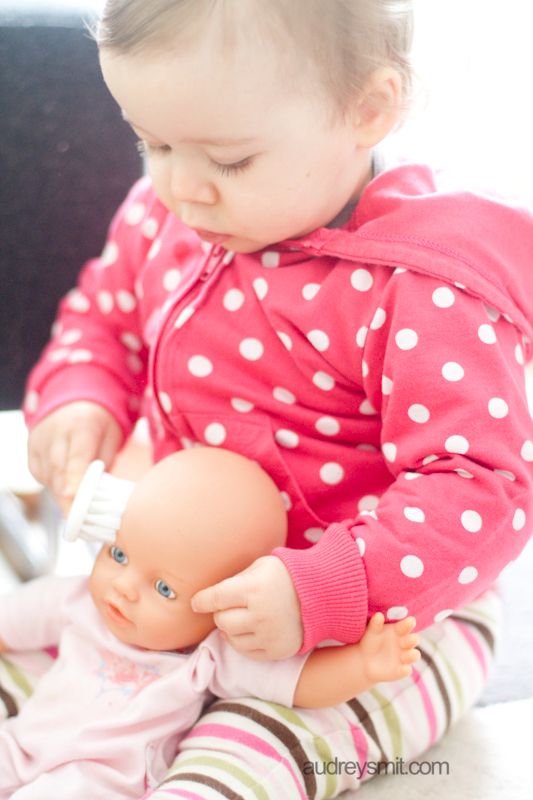 And I thought I'd be sad to see the baby side of her going away, but I'm at peace with it....maybe a little bit because of the second little girl growing in my belly right now? :). But I think, mostly because I can see more and more of her personality coming out every day, and that just makes me freaking love her more and more - even though I didn't think that was possible. It's like my heart is growing more and more love as she grows. She's our big ray of sunshine.
Last night we were having a little food going to the pool with Clo & Pia, and she started cracking up....and I made her laugh back....and she made me laugh with another crazy laugh....and then we just couldn't look at each other without cracking up. Oh my belly hurt my so much laughing:)
And it felt SO good.