These days there is a lot of "grabbing" done around for our little family.
Grabbing with her little hands.
Her little hands have been getting busy these past few days, working really hard to hold on to...well, just about anything she can find in front of her. With sounds of encourage from her mamma and her daddy in the background, "oohh-s" and "haaaa-s" and "hurra-s"...we are not sure it actually helps her make progress, but it sure makes us happy and also look silly, which we like around this house :)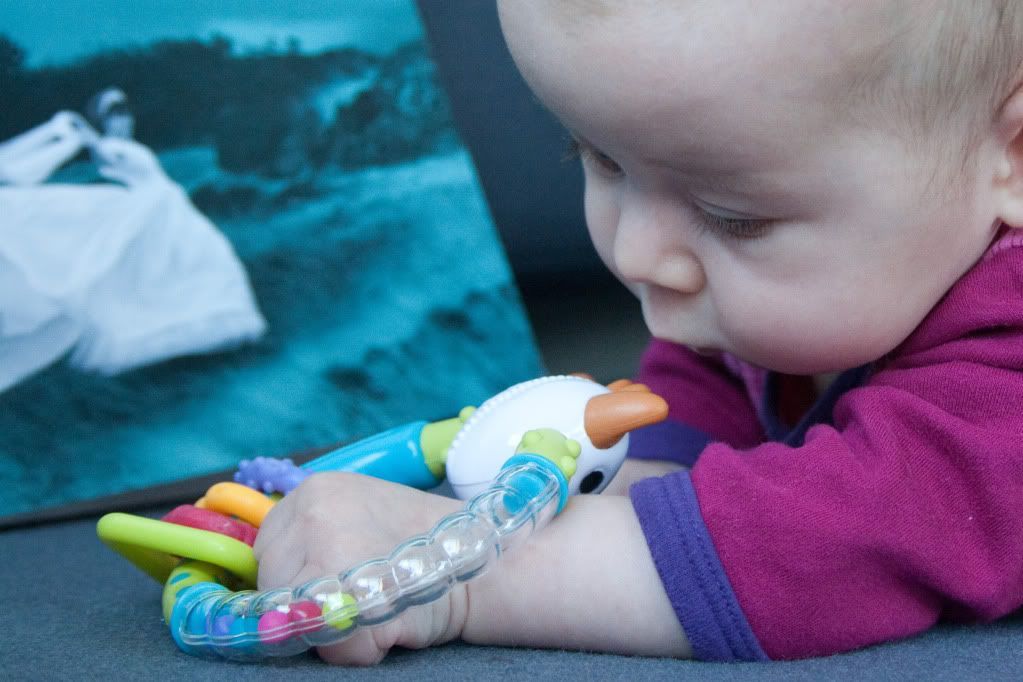 Grabbing moments of pure cuteness.
Snap. Snap. Stealing these moments away with my camera, before they are gone forever. She is growing so fast already, and I want to remember it all. But like we say in French, I don't have a "memoire d'Elephant", so pictures are going to help. And let me tell you, there's quite a lot of cuteness around our house these days...so I'd better get busy if I want to grab it all!
Like these two playing together.
Or when she is just "hanging out".
Or when they read
a nice little fairytale
the newspaper together :)
Grabbing opportunities to learn.
One more maternity shoot. I had taken pictures of
Kath
a few weeks ago, in
this post
. Last Saturday it was the turn of her sister NIcholine, due in about 3 weeks from now. Thanks Nicholine for giving me an opportunity to take some pics of you.
Grabbing opportunities for "outs".
Troels and I went on our first real date on Saturday, and Olivia spent the night at her grand-parents. What a weird feeling that was to wake up only the two of us in the room and not hear a little girl cooing in her bed, ready to be picked up for some morning cuddles. But we had a fantastic date in the Tivoli Gardens, so that was worth the sacrifice :) Highlight of the night? Oh the pirate ship...we are worse than kids!
And since we are on the topic of pirate ships and outs...we are also out on our way to Norway as I am writting this! Troels has a conference in Oslo all week, so we decided to take the ferry up the Fjords for a last minute fun little trip. Norway here we come.
Land A'hoy Captain Tinymus!
Knus, Audrey